Carpet Stain Removal
We are the Gold Coast's Carpet Stain Removal Experts: We've been Trained to remove the Carpet Stains others leave behind. If we can't remove the Stains, then no one can!
We are the Gold Coast to Tweed Heads Carpet Stain Removal Masters. So give us a call on 0430 774 493 or send us an Email.
Most Stains are either Water based, Oil based or Dye based. Our Carpet Stain Masters specialize in removing the following Stains that others companies claim can't be removed! We can and do remove these stains: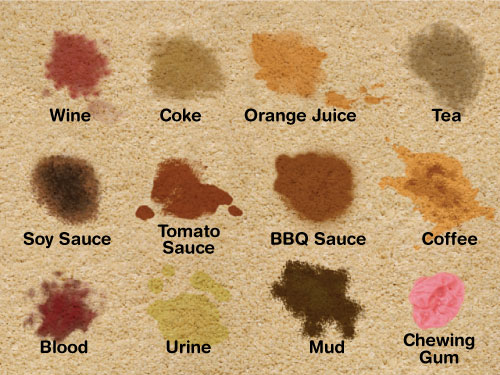 Red Wine, Mixed Drinks like Cruisers, Shots and Beer Stains
Cordials, Soft Drinks (Fanta and Coke etc), Milk Shakes, Chocolate and Coco Stains
Food Colourings, Red Dyes and Printer Toner spills
Tea and Coffee
Tomato Sauce (Ketchup), Spaghetti Sauce, Soy Sauce, Gravy Sauce Stains
Brown permanent Furniture Stains (these are the Stains other companies tell you can't be removed)
Dirt and Grass Stains
Iodine and Medicine Stains (often Reds and Purples)
Cosmetic Makeup Stains (Lipstick, Eye Liner, Rouge, Nail Polish etc)
Paint, Oil, Grease, Tar and Asphalt
Rusty Stains (usually Brown or yellowish-orange coloured)
Shoe Polish Stains
Jams and Berries Stains
Body Fluides (Vomit, Blood, Faeces etc). Please Note: Urine Damage can sometimes permanently Urine Acid Burn the Carpet yellow-orange coloured. Accordingly, sometimes Urine Acid Burnt Carpet is un-repairable, as the fibre is so badly damaged it can no longer retain any Dye colour as the Urine Acid burns the Carpet or Rug fibre's ability to hold Dye colours. However, where the fibre is not severely Acid Burnt, the Carpet or Rug may sometimes be able to be Re-Dyed back to it's original colour. Carpet Re-Dyeing is a separate process to Stain Removal. Accordingly, if needed, we can offer Customers a Free Quote with honest advice on what options are available to them and what likely outcome is bested suited to their particular preferences (i.e. Carpet age, condition of Carpet, likely best outcome and most cost effective options).
Dry Clean Carpets are IICRC Trained and Accredited Carpet Cleaning Technicians. We specialize in Stain Removal treatments that other Cleaners wrongly or dubiously claim are permanently stained Carpets, Rugs or upholstery. If you need honest ethical Carpet Stain Masters, then call us on 0430 774 493 or send us an Email, because you'll love us. We do the right thing by Customers all day, everyday!

Carpet Cleaning Stain Removal 100% Satisfaction Guarantee
Dry Clean Carpets customers receive a 14 day 100% Satisfaction Guarantee on all of our Certified Carpet Cleaning Technician's Carpet Cleaning Stain Removal work. If customers aren't totally satisfied, then give us a Call on 0430 774 493 or send us an Email and we'll return free of charge.

Fabric Protection
To extend cleaning intervals, and to save money by not needing to constantly hire a Carpet Cleaner, we recommend Customers get Fabric Protection to reducing spots, stains and permanent marks on Carpets, Rugs, Car Seats, Mattresses, Upholstery and Sofa Lounges, Dry Clean Carpets recommends the use of Fabric Protection (AKA as Scotchgard).
Interestingly, the majority of Spots that are treated immediately won't ever turn into a Stain. To help prevent Carpet Stains, Dry Clean Carpet Customers are encouraged to use our Long Life Fabric Protector Stain Repellent (AKA Scotchgard) to help reduce carpet and rug stains.
The importance of using a Fabric Protector or Scotchgard type product can not be over emphasized when an item is new or is in a good condition. Specifically, as this allows you to Fabric Protect it before any spots, stains or permanent marks occur. Just give us a Call on 0430 774 493 or Email us to book in to have your new or old items Fabric Protected before it gets badly stained and it's to late.

At Home: Carpet Stain Remover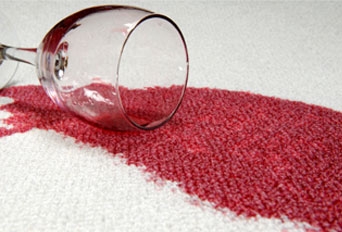 Carpet Stain Removal can often be done at home. So Customers don't always have to call a Carpet Cleaner if the spot is fresh and it's a water based stain.
Water based stains can be treated by mixing a little bit of mild detergent and some warm water together in a dish or cup, and then dabbing a white towel (or white paper towel or tissue) in the mixture. Then blot up the stains in a twisting circular motion. Remember to never ever rub side to side, as you'll just spread the Spot or Stain and make it larger and harder to remove. Use the detergent-water dabbed section of the towel, starting from the outside of the Spot and moving in a circular way towards the centre of the Spot until all of the Spot residue is removed from your repeated blotting with the clean sections of the white towel.
Then repeatedly dab the towel in some clean fresh warm water to Clean and Rinse the area where the Spot or Stain was. Then the last step is to use dry sections of the towel and repeatedly blot again to totally dry the Carpet to remove any remaining residue. Make sure you completely remove all of the water-detergent mixture residue, so the the Spot or Stain affected area is clean and thoroughly dried.
If trying home Carpet Stain Removal isn't possible, as the Spot has set (dried) into a Stain or you want a Carpet Cleaning Professional to treat it, then call Dry Clean Carpets on 0430 774 493 or send us an Email and we will come and attend to your Carpet Stain Removal.
Sometimes Wines and other Stains and Spots like cordial, red ink, blood and texters result in permanent dye staining, especially with solution dyed fibres like wool, nylon and cotton. That's why your Dry Clean Carpets Trained and Accredited Carpet Cleaning Technician will examine the Stain or Spot affected area and discuss with you the likely best options and expected results, before seeking your approval to proceed with Carpet Stain Removal.