Do you want the Best Gold Coast Dry Carpet Cleaning service?
Then just Call 0430 774 493 or Email us to Book in your Dry Carpet Cleaning appointment.
The two most popular Carpet Cleaning methods are:
1. Dry Carpet Cleaning; and
2. Steam Carpet Cleaning (known within the Carpet Cleaning Industry as Hot Water Extraction).
Dry Carpet Cleaning Processes
Here's how our Professionally Trained and Accredited Carpet Cleaning Technicians will expertly Dry Clean your Gold Coast Carpets:
Step 1. Pre-inspect Carpet: age, condition, soiling and colour fastness. Discuss potential cleaning results with Customer, before gaining carpet cleaning approval.
Step 2. Thoroughly vacuum the Carpets north to south and east to west. Our industrial powered vacuum cleaners use high speed rotating brushes to remove the 74%-79% of dry soil matter that sits in Carpet Pile. The remaining 21%-26% of soil matter in Carpets consists primarily of sugars and oils (mostly body oils from perspiration from the feet and skin) which the Pre-spray removes.
Step 3. Pre-spray the Carpets with biodegradable soil retardant cleaning agent.
Step 4. Pre-spray and pre-treat Spots and Stains by agitating and allowing extra dwell time to enable soil retardant cleaning agents to loosen or remove carpet Stains.
Step 5. Rotary Scrub the Carpet Pile with Absorbent Bonnet Pad to activate the soil retardant cleaning agent for removal and separation of Spots, Stains and soils.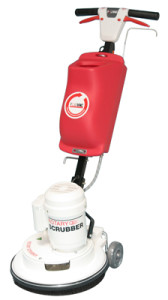 Step 6. Final Rotary Absorbent Bonnet Pad clean and pH neutralise the Carpet Pile with acid rinse.
Step 7. Optional*: Leave your Cleaned Carpets smelling fresh with a fragrant Lemon Twist or Vanilla Coco Deodorizer smell for only $5 per room.
Step 8. Optional*: Long Life Fabric Protector-Stain Repellent: use our durable long lasting Fabric Protector-Stain Repellent to extend your Carpet Cleaning schedule by decreasing re-soiling and increasing your Carpets Cleaning efficiency for only $55 per room.
Step 9. Speed up Carpet drying time and aesthetic look by setting Carpet Pile direction for maximum aeration with Carpet Rake.
Dry Carpet Cleaning Advantages
Is that it offers the advantage of being able to be walked on almost straight away (usually within 30 minutes, up to an hour). We offer free Bootie shoe protectors to customers that need or want to walk on their Carpets immediately.
Dry Carpet Cleaning Disadvantages
May occur in Commercial establishments, for example: Restaurants, Night Clubs, Hotels, Schools or Building Sites. Especially where heavy walk through traffic takes place or where extreme soiling occurs from things like spilt food, soft drinks, alcohol spills or fine gyprock or cement dust. In these situations, Steam Cleaning might be a more effective Carpet Cleaning system.
So is Dry Carpet Cleaning or Steam Carpet Cleaning the better system?
Both Dry Carpet Cleaning and Steam Carpet Cleaning systems have their advantages and disadvantages. Therefore, in accordance with the Australian/New Zealand Standard AS/NZS 3733:1995, we strongly recommend that you follow the advice and cleaning schedule in your Carpet Manufacturer's Warranty.
Alternatively, our fully Trained, Qualified and Accredited and Dry Clean Carpet Trained Technicians use both Dry Carpet Cleaning and Steam Carpet Cleaning systems. The Best Carpet Cleaning system is the combination of Dry Carpet Cleaning and Steam Carpet Cleaning, called the Ultimate Carpet Cleaning. Our extensive Training allows us to offer unbiased advice on the most suitable carpet cleaning process to meet your Carpet Cleaning needs.
Sadly the majority of Carpet Cleaning Companies on the Gold Coast only offer either Dry Cleaning or Steam Cleaning. Not surprisingly, these Carpet Cleaning businesses often very harshly criticise the Carpet Cleaning system they don't use. When in fact, both Dry Cleaned Carpets and Steam Cleaned Carpets systems have their advantages and disadvantages. Dry Carpet Cleaning Gold Coast
Dry Carpet Cleaning 100% Satisfaction Guarantee
Dry Cleaned Carpet customers receive a 14 day 100% Satisfaction Guarantee on all of our Certified Dry Carpet Cleaning Technician's work. If customers aren't totally satisfied with their Dry Cleaned Carpets, then give us a call on 0430 774 493 or send us an Email and we'll return free of charge.
Dry Clean Carpets specializes in periodic property inspections and end of term rental leases (e.g. Bond Cleaning, Carpet Cleaning and Pest Control).
Please Note: Many of our Gold Coast to Tweed Heads Customers are aware that Dry Carpet Cleaning, is widely known as the Electrodry (sometimes also referred to as Encapsulation) Carpet Cleaning system. The correct industry wide Carpet Cleaning term is: Dry Carpet Cleaning. But Electrodry and Dry Carpet Cleaning are often used interchangeably by our Gold Coast to Tweed Heads Customers.
Internet Special!
3 Rooms Dry Cleaned Carpets for only $99 and the 4th Room's only $20 extra! (Standard Room Size).