Our Truckmount Steam Carpet Cleaning processes, comply with the Australian and NZ Standard AS/NZS 3733:1995. Our Fully Trained and Accredited Carpet Cleaning Technicians Steam Clean Carpets to the highest standards.
The two most popular Carpet Cleaning methods are: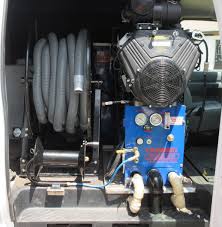 1. Steam Carpet Cleaning (known within the Carpet Cleaning Industry as Hot Water Extraction); and
2. Dry Carpet Cleaning.
Truckmount Steam Carpet Cleaning Processes
Here's how our fully Trained and Accredited Technicians will Professionally Steam Clean your Carpets with our Truckmount Machine:
Step 1. Pre-inspect Carpet: age, condition, soiling and colour fastness. Discuss potential cleaning results with Customer, before gaining cleaning approval.
Step 2. Where excessive amounts of hair exist or where the Carpets are excessively dirty, we will thoroughly vacuum the Carpets north to south and east to west. Our industrial powered Hospital Grade commercial (asthma and allergy: 3 Hepa Filter) vacuum cleaners use high speed rotating beta brushes to remove the 74%-79% of dry soil matter that sits in Carpet Pile. The remaining 21%-26% of soil matter in Carpets consists primarily of sugars and oils (mostly body oils from perspiration from the feet and skin) which the Pre-spray removes.
Step 3. Pre-spray the Carpets with Hot Clean Water with biodegradable soil retardant cleaning agent.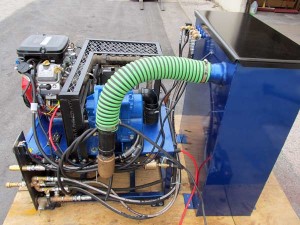 Step 4. Add extra Pre-spray and pre-treat Spots and Stains by agitating with Carpet Rake or brush and allow extra dwell time to enable biodegradable soil retardant cleaning agents to loosen or remove Stains.
Step 5. The Carpets are injected with a Hot Water Jet Spray from the powerful Truckmount Machine that penetrates deep into Carpet Pile, while simultaneously strongly vacuuming up at 15 inches of Mercury (i.e. 210 inches of Water Lift) removing all dust, grit and dirty water. The powerful Truckmounted Steam Cleaning process rinses the Carpet Clean and neutralises the Carpet's pH level and removes any remaining dirty water and residue.
Step 6. Optional*: Leave your Cleaned Carpets smelling fresh with a fragrant Lemon Twist or Vanilla Coco Deodoriser smell for only $5 per room.
Step 7. Optional – Highly Recommended*: Spray Long Life Fabric Protector-Stain Repellent: to reduce spots, stains and lengthen the cleaning intervals of your Carpet Cleaning schedule by decreasing re-soiling and increasing your Carpets life-cycle – only $30 per room.
Step 8. Speed up Carpet drying time and aesthetic look by setting Carpet Pile direction for maximum aeration with Carpet Rake, or Evolution Carpet Cleaning Wand or Broom.
Truckmount Steam Carpet Cleaning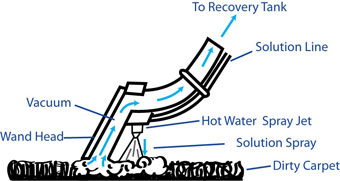 Truckmounted Carpet Cleaning is the fastest most powerful efficient Carpet Cleaning system. There are many reasons why Customers and Carpet Cleaners prefer the Truckmounted Carpet Cleaning system.
The primary reason Truckmounted Carpet Cleaning is preferred is the extremely high quality of the Cleaning end result!. Secondly, Carpets, Rugs and Upholstery dry much faster due to the hot steam cleaning of the Truckmounted Carpet Cleaning Machine, usually within 1 to 2 hours in Summer and 3 to 4 hours in Winter.
All Truckmounted Carpet Cleaning Machine Vacuums are very very powerful, as they're preset to 15 inches of Mercury, known as 15HG within the Carpet Cleaning industry, which equals 210 inches of Water Lift. Truckmounted Machines are preset to 15 HG, as this is the maximum safe vacuum level to Clean Carpets and Rugs without damaging the carpet fibres.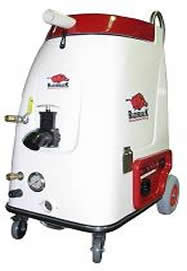 All a Truckmount Carpet Cleaning Machine needs is access to clean fresh water from a tap, which the Truckmount then super heats the high pressure water to clean the Carpets, Rugs or Upholstery.
As Truckmounted Carpet Cleaning Machines have their own power, it doesn't matter if a Customer has accidentally turned the electricity off when they're moving out and ending the Tenancy Lease of a Rental Property.
So in simple terms, a Truckmounted Carpet Cleaning Machine offers very high cleaning quality and is much faster than other Carpet Cleaning processes. Truckmounted Carpet Cleaning is usually 50% faster than a Portable Steam Carpet Cleaning Machine (see above red and white machine on right), doing the job in half the time and faster than Carpet Dry Cleaning (see machines on left) by about 20% to 30%. So most Busy and time poor Customers prefer Truckmounted Carpet Cleaning for those reasons, plus, if you're without electricity, because the Electricity Company turned your electricity off, you'll need a Truckmounted Carpet Cleaning business like ours.
Truckmount Carpet Cleaning Disadvantages
A Truckmounted Carpet Cleaning Machine needs access to clean fresh water from a tap; usually a tap on the outside of the building or an internal washing machine Laundry tap. Without clean fresh water, a Truckmounted Carpet Cleaning Machine wont be able to work safely.
Another feature is that the Truckmount Machine is permanently mounted in the Truck or Van, meaning that the Machine cannot be removed from the Truck or Van to get closer to the Carpets, Rugs or Upholstery being cleaned.
That's why some Gold Coast to Tweed Heads Highrise Apartments that have lifts (usually buildings above 4 or 5 stories high) or Units that are too far away from the parked Truckmounted Machine, can not be reached by the Vacuum hoses. That's when a Portable Steam Carpet Cleaning Machine or Carpet Dry Cleaning is more appropriate for our really tall Gold Coast and Tweed Heads Highrise Apartments.
Truckmount Steam Carpet Cleaning Advantages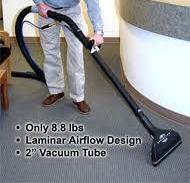 Where Carpets are badly soiled or haven't been cleaned for an extended period of time, Truckmount Steam Cleaning might be the most appropriate Carpet Cleaning process; as the super heated hot water and very strong vacuum motor sucks clean and then helps dry the Carpets exceptionally fast.
Commercial establishments, like Building Sites, School, Restaurants, Night Clubs or Hotels may prefer Truckmounted Steam Cleaning. Especially where Building Site dust or heavy walk through traffic occurs or where extreme soiling takes place from gyprock or cement dust, spilt food, soft drinks or beer spills. In these situations, Truckmount Steam Cleaning might be the most effective Carpet Cleaning system, due to it's efficient high quality cleaning and as it's very fast drying.
Please Note: where Carpets are heavily or excessively soiled, a Dual Clean (Dry and Steam) may be the most appropriate method to rejuvenate your Carpet. Our Accredited Carpet Cleaning Technicians will advise you on the most suitable process to meet your needs.
So is Truckmount Steam Carpet Cleaning better than Dry Carpet Cleaning?
Well, both Carpet Cleaning systems have their advantages and disadvantages. Therefore, in accordance with the Australian/New Zealand Standard AS/NZS 3733:1995, we strongly recommend that you follow the advice and Carpet Cleaning schedule in your Carpet Manufacturer's Warranty.
Alternatively, our fully Trained, Accredited and Qualified Technicians use both Truckmount Steam Carpet Cleaning and Dry Carpet Cleaning systems. That's why we're able to offer unbiased advice on the most suitable process to meet your specific Carpet Cleaning needs.
Sadly the majority of Carpet Cleaning Companies only offer either Dry Carpet Cleaning or Steam Carpet Cleaning. Not surprisingly, these businesses are often untrained operators who very harshly criticise the Carpet Cleaning system they don't use.
When in fact, both Dry Carpet Cleaning and Steam Carpet Cleaning systems have their advantages and disadvantages. An UItimate (Dual) Carpet Cleaning is the Best highest quality, as it takes twice as long and capitalises on the best aspects from Dry and Steam Carpet Cleaning systems processes.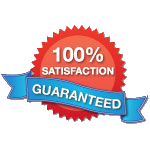 Truckmount Steam Carpet Cleaning Steam Cleaner Gold Coast 100% Satisfaction Guarantee
Our Truckmount Steam Carpet Cleaning customers receive a 14 day 100% Satisfaction Guarantee on all of our Certified Carpet Cleaning Technician's work.
If customers aren't totally satisfied with their Truckmount Steam Carpet Cleaning, then give us a Call on 0430 774 493 or send us an Email and we'll return free of charge.
Steam Carpet Cleaning Information
Some customers choose to regularly alternate between Steam Carpet Cleaning and Dry Carpet Cleaning. For example, you've not cleaned your Carpets for a long time (2 or more years) and you want to try and refresh the look of your worn Carpets.
Therefore, Steam Cleaning your Carpet might be preferable as you're not concerned with having moist carpets for a few hours.
Please Note: The Carpet Cleaning industry is poorly regulated in Australia. Consequently, a majority of operators (e.g. 95%) are untrained and have no formal Carpet Cleaning training, knowledge, Accreditation or Insurance coverage.
This results in unprofessional unscrupulous operators who give Customers a driveway warranty, once they leave your property, your warranty has gone down the driveway and wont return! These operators prey on unsuspecting customers by delivering poor shoddy substandard Carpet Cleaning (i.e. very wet dirty carpets that take more than 2 to 5 days to dry). Carpets that take longer than 24 hours to dry are susceptible to mould growing and does not comply with the Australian and New Zealand Standards AS/NZS 3733:1995.
Some shonky deceitful Carpet Cleaning businesses offer amazingly cheap prices. They often use a "Bait and Switch" marketing strategy. Which means they'll quote Customers a really attractive cheap price and then when they're doing the job, they'll add on a range of new extra additional charges, so the end result is you'll have to pay a lot more than the original really cheap quoted price and pay way above the industry standard. Basically, they'll really rip you off Big Time! They don't care that you'll never use them again, because they often change their Business Name every 12 months to 2 years anyway and start ripping off customers again under their new Business name!
Dry Clean Carpets specializes in ethical, honest high quality Professional Truckmount Carpet Cleaning, Car Carpet Cleaning, Boat Carpet Cleaning and Plane Carpet Cleaning, as well as periodic property inspections and end of term rental leases (e.g. Bond Cleaning,Carpet Cleaning and Pest Control).
Click here for further details on: Spot and Carpet Cleaning Stain Removal Policy Gold Coast to Tweed.
Truckmounted Steam Carpet Cleaning Internet Special!
3 Rooms Steam Cleaned for only $99 and the 4th Room's only $20 extra! (Standard Room Size).