The Best Carpet Cleaning System is?
A Dual Carpet Clean is by far the Best Carpet Cleaning system available on the market! Bar none! A Dual Ultimate Carpet Clean is better than Dry Carpet Cleaning or Steam Carpet Cleaning alone! As a Dual Carpet Clean combines the Best aspects of Dry Carpet Cleaning and Steam Carpet Cleaning together, it delivers a vastly superior cleaning result.
Very few Carpet Cleaning Companies offer Dual Carpet Cleaning, as they usually only offer the Dry Carpet Cleaning or Steam Carpet Cleaning. These operators will often discredit the system they do not offer, so far to often they'll give heavily biased opinions against the system they don't offer. Please Note: Dry Carpet Cleaning and Steam Carpet Cleaning are both excellent Carpet Cleaning systems, which both have their advantages and disadvantages. That's why we offer both Carpet Cleaning systems. Thereby allowing us to offer honest, ethical unbiased advice to help meet our Customer's exacting requirements.
Common examples where a Dual Carpet Clean is needed is where a customer has really badly Stained Carpets or where the Carpets have not been Cleaned for an extended period of time (e.g. 2 years or more) and they desperately need a thorough Carpet Clean. Or, where a Customer is selling their home and they want the Carpets to look as new as possible. Or, where heavily soiled Carpet from children and pets staining the Carpets, or where the carpets are disgustingly dirty from a bad Tenant who's trashed the Carpets before being Evicted.
A Dual Ultimate Carpet clean consists of the two most popular Carpet Cleaning processes combined together, they are:
1. Dry Cleaned Carpets (scrubbing and agitating the Carpet and Stains with commercial quality cleaning chemicals); and
2. Steam Cleaned Carpets (removes all dirt and chemical residue and rinses carpet off with clean hot water).
Please Note: A thorough Pre-Vacuum with an industrial grade Asthma quality Vacuum Cleaner occurs prior to the Dry Carpet Cleaning and Steam Carpet Cleaning.
Dual Clean: Dry Cleaning and Steam Cleaning Carpet Processes
Here's how our fully Trained and Accredited Carpet Cleaning Technicians will Professionally Dual Clean (Dry and Steam) your Carpets:
Step 1 – Pre-inspect Carpet: age, condition, soiling and colour fastness. Discuss potential cleaning results with Customer, before gaining carpet cleaning approval.
Step 2 – Thoroughly vacuum the Carpets north to south and east to west. Our industrial powered vacuum cleaners use high speed rotating brushes to remove the 74%-79% of dry soil matter that sits in Carpet Pile. The remaining 21%-26% of soil matter in Carpets consists primarily of oils (mostly body oils from perspiration from the feet and skin) which the Pre-spray removes.
Step 3 – Pre-spray and pre-treat Stains by agitating with Carpet Rake and allowing extra dwell time to enable biodegradable soil retardant cleaning agents to loosen or remove carpet Stains.
Step 4 – Rotary Scrub the Carpet Pile with Absorbent Bonnet Pad to activate the biodegradable soil retardant cleaning agent for removal and separation of Stains, Spots and soils.
Step 5 – The Carpets are injected with a Hot Water Jet Spray that penetrates deep into Carpet Pile (not underlay) while simultaneously vacuuming up dust, grit and dirty water. This Steam Cleaning process rinses and neutralises the Carpet's pH level and removes any remaining residue.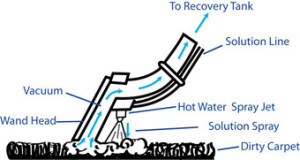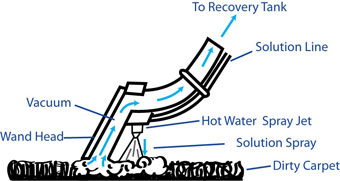 Step 6 – Optional Free!*: where Carpets require additional drying assistance. For example: cold winters days or thick slow drying Carpets may benefit from a Rotary Absorbent Bonnet Drying Pad to soak up any excess water or an air blower can be used to reduce drying time.
Step 7 – Optional*: Leave your Cleaned Carpets smelling fresh with a fragrant Lemon Twist or Vanilla Coco Deodoriser smell for only $5 per room.
Step 8 – Optional – Highly Recommended*: Spray Long Life Fabric Protector-Stain Repellent: to reduce spots, stains and lengthen the cleaning intervals of your Carpet Cleaning schedule by decreasing re-soiling and increasing your Carpets life-cycle – only $30 per room.
Step 9 – Speed up Carpet drying time and aesthetic look by setting Carpet Pile direction for maximum aeration with Carpet Rake, or Evolution Carpet Cleaning Wand or Broom.
So is Steam Carpet Cleaning or Dry Carpet Cleaning the better system?
Well, both systems have their advantages and disadvantages. Therefore, in accordance with the Australian/New Zealand Standard AS/NZS 3733:1995, we strongly recommend that you follow the advice and cleaning schedule in your Carpet Manufacturer's Warranty.
Alternatively, our fully Trained and Accredited Qualified Carpet Technicians use both Dry Carpet Cleaning and Steam Carpet Cleaning systems. Therefore, we offer unbiased advice on the most suitable Carpet Cleaning process to meet your Carpet Cleaning needs.
Sadly the majority of Carpet Cleaning businesses and large Companies only offer either Dry Carpet Cleaning or Steam Carpet Cleaning. Not surprisingly, these businesses often very harshly criticise the Carpet Cleaning system they don't offer. When in fact, operator expertise is the key to both Dry Carpet Cleaning and Steam Carpet Cleaning, as each process has its advantages and disadvantages.
Dual Carpet Cleaning 100% Satisfaction Guarantee
Dry Clean Carpets customers receive a 14 day 100% Satisfaction Guarantee on all of our Certified Carpet Cleaning Technician's work. If customers aren't totally satisfied, then give us a Call on 0430 774 493 or send us an Email and we'll return free of charge.
Dry Clean Carpets specializes in periodic property inspections and end of term rental leases (e.g. Bond Cleaning, Carpet Cleaning and Pest Control).