Carpet Flood Water Damage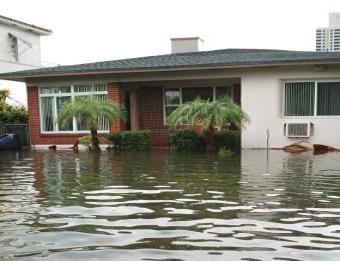 Dry Clean Carpets are your Gold Coast to Tweed Heads flood and water damage restoration carpet experts. We use the best, most powerful Truckmount powered water suction removal Carpet Cleaning machines. Our flood water carpet damage restoration recovery services adhere to the highest international Standard IICRC S500. Our fully Trained and Accredited Flood Water Damage Restoration Specialists will quickly and expertly remove water from your flooded carpets and underlay.
We dry your wet carpets from the Gold Coast to Tweed, so just give us a Call on 0430 774 493 or send us an Email and let our Gold Coast and Tweed Flood Water Damage services help you restore your wet carpets to new and stop your carpets from having to be prematurely thrown away from flood water damage, mouldy carpets or water logged carpets.
Carpet Flood Water Restoration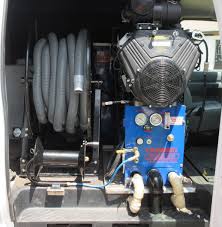 Failing to dry your wet carpets quickly (within 24 hours) often results in expensive new carpet replacement costs and Carpet Layer labour wages! Prolonged wet carpets (48 hours or more) usually means that the water logged carpet have to be thrown away, as mould growth can be hazardous to your health. This results in all of the wet furniture having to be moved out of your office or home while the new carpets are being replaced and then relayed.
Then you'll have to move the furniture back in after the new carpets have been stretched and relayed. Flood Restoration Damage can adversely affect the floor, ceiling, underlay, wet carpet and furniture damage, sometimes causing alternate accommodation arrangements to be put in place while the office or home is dried and repaired.
Carpet Mould Damage
Carpet Flood Damage is the perfect breeding environment for mould, microscopic spores, microorganisms, germs and bacteria. Wet Carpets can lead to irreparable water damaged carpet and underlay, due to the growth of moulds, mildew and funguses. Flood Water Damaged Carpets can create an awful musty smell that is often referred to as a "Wet Dog" smell which can be difficult to remove if not dried quickly within 24 hours.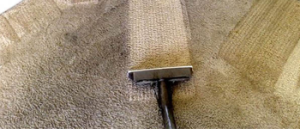 Allergy sufferers and Asthmatics, as well as people with breathing problems, like sensitive airways are particularly susceptible to airborne spores! That's why for most people, prolonged Flood Damaged Carpets are a Occupational Health and Safety (OH&S) hazard risk. So don't delay having your Water Damaged Carpets dried immediately by ringing 0430 774 493 or send us an Email to have Dry Clean Carpets solve your Flood Water Damage Restoration problems solved.
Wet Carpets
Failing to have your Flood Water Damaged Carpets dried immediately can often lead to costly Secondary Damage to other parts of your home. This usually occurs when Wet Carpets are not dried quickly (within 24 hours), resulting in water entering or penetrating sub flooring, ceilings, walls, cupboards and damaging furniture like antique wooden beds, draws and electrical items such as: Mobile Phones, TVs, Blu-Ray DVD players, Set Top Boxes, electronic games, iPads, computers, printers, lights, fans etc.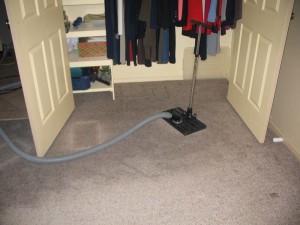 What can Gold Coast and Tweed Customers do to reduce their Flood Water Carpet Damage?
1. Protect your family's and employees safety! Remove your children and pets from any Flood Water Damaged or wet carpet affected areas. If required, turn the electricity Mains Switch off at the electricity mains power supply (i.e. the Fuse Box: Mains Switch). Turn off any and all electrical items at the power point that may have come into contact with flood waters or Wet Carpets. Please Note: Do not touch any power points, electrical cords or appliances until the power has been turned off at the Mains Switch at the Fuse Box or power supply!
2. If needed, ring your Landlord, Real Estate Agent or an Electrician and tell them about your flooded carpets and what actions they might deem appropriate to follow. Ring a Plumber if required to request that they urgently attend to any broken or burst pipes, seeping hot or cold water systems or leaking taps, or water sources that are flooding your wet carpets.
3. If safe to do so, locate the origin of the water leak and the water affected wet carpet areas. If it's a bath that's overflown, dripping tap, hot water system that's leaking or broken pipe, try to turn the water off at the tap and or mains water supply to reduce any further carpet flood water damage. Make sure you tell your neighbours about the water damage problem. Especially if you share the water supply (e.g. Apartments, Units or Townhouses). Then that way, your neighbour can quickly attend to their wet carpet or any water leaking that enters their property. Plus then they wont turn the water back on at the mains and create more water damage to your wet carpets to their carpets either.
4. Identify the water source, for example: is it clean water (e.g. a leaking tap, burst pipe, rain water or bath water), grey water (e.g. your washing machine water) or black water (e.g. contaminated water: sewage).
5. If safe, use a mop, towels and or white bedding sheets to absorb as much water as possible from the wet carpets and to reduce slippery floor areas like tiled bathrooms, kitchens and hallways.
6. If safe to do so, remove beds, furniture, electronic items, any perishable items like curtain drapes, books, valuables (e.g. expensive Silk, Persian or Wool rugs etc) from flood or flood water damaged areas.
What you want to do is: reduce Secondary Water Damage from metal or wooden items rusting or staining the wet carpets. Your heavy furniture can have pieces of aluminium foil or plastic bags placed under heavy or difficult to move items. Then that way, you'll reduce the chance that your wet furniture will stain the wet carpets as they dry.
7. If safe to do so, (i.e. get your Electrician's approval if appropriate) turn your fans on and open the windows if the temperature is above 21 degrees Celsius (e.g. you do not have air-conditioning). If you have air-conditioning close the windows and turn the fans on and set the air-conditioning to the optimum heat range between 25 to 27 degrees Celsius. The air-conditioning will act like a dehumidifier and aid in the drying of your flood damaged or wet carpets.
8. Try to eliminate the risk of damaging your wet rugs, wet carpets or the underlay, by not walking on them while they are wet. Please Note: wet carpets and rugs are structurally weaker when wet, so walking on them can weaken or permanently damage wet carpets and rugs.
9. Call your Dry Clean Carpets Flood Water Damage Expert on 0430 774 493 so we can fix your Water Damaged Carpets.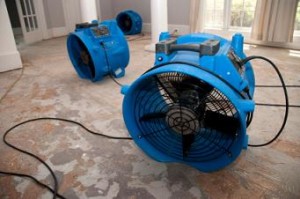 10. Do not turn any of the Dry Clean Carpets Water Damage Restoration Equipment off unless you've called 0430 774 493 and are authorised to do so by your IICRC S500 Trained and Accredited Water Damage Specialist. Otherwise you may void your Insurance coverage and become solely responsible for any and all water damage and secondary damage that has or may occur from the Flood Water Damaged Carpets.
Dry Clean Carpets specializes in periodic property inspections and end of term rental leases (e.g. Bond Cleaning, Carpet Cleaning and Pest Control). So give us a Call on 0430 774 493 or Email us to book in.
Please Note – Buyer Beware: un-trainted Carpet Cleaning Businesses often rip the wet Carpet off the tack strip (also known as Carpet Gripper) which creates unnecessary large holes in the wet Carpet backing, as Carpet is very weak when wet. This often results in permanent damage to the Carpet backing, as once the Carpet has dried, it often will not re-attach to the tack strip again, as the large holes on the back of the Carpet are so big that the Carpet is no longer strong enough to be stuck down again back onto the tack strip. Meaning that once the Carpet is dried, it sometimes needs to be replaced as the Carpet is permanently damaged, so you've basically wasted your money using an un-trained Carpet Cleaning company.
These un-trained operators rationale for ripping the Carpet off the tack strip is to place Air blowers beneath the wet Carpet to quickly dry the sub floor, but it is not needed, as water evaporates and Air Blowers should be placed above the Carpet in most situations. Another reason un-trained operators use to lift the Carpet off the tack strip is that it allows them to charge more, for a Service that is not needed. Specifically, Carpet Laying Fees for removing the Carpet from the tack strip and Re-Laying Carpet Fees for putting the Carpet back onto the tack strip. Be aware: this is an industry wide sales trick that aims to charge unaware Customers extra dollars on a service they don't need, but are told is needed.
If you want honest, ethical local Professional Technicians, then please give us a Call on 0430 774 493 or Email to book in and use a Trained and Accredited Carpet Cleaning Business.