Question 1 – Should I clean my Carpets as recommended by my Carpet Manufacturer's Warranty?
Answer 1 – Yes. Always follow the guidelines specified in your Manufacturer's Carpet Warranty. Use a Qualified Carpet Cleaner like Dry Clean Carpets who have been Professionally Trained and Accredited to clean your Carpets and Rugs according to your Manufacturer's Warranty specifications.
Question 2 – How often should my Carpets be Cleaned?
Answer 2 – The Australian and New Zealand Standard AS/NZS 3733:1995 recommends intervals of between 12-18 months. Failure to Professionally Clean your Carpets regularly reduces the average 12 year life span of your Carpets. Therefore, failure to keep a regular carpet cleaning schedule will lead to incurring expensive Carpet Laying and purchasing costs to prematurely replace your homes carpets. Regular, Professionally Cleaned Carpets, will save you money and also save you time from shopping for new Underlay and Carpets.
Question 3 – Wouldn't it just be easier and cheaper to hire a Carpet Cleaning machine and clean the Carpets and Rugs myself?
Answer 3 – No. The reason is: domestic and Super Market hire vacuum cleaning machines don't have a commercial-industrial strength rotating beta brush vacuum, with HEPA filters that gets deep into the Carpet Pile to remove the 74%-79% of dry soil matter in Carpets or Rugs. Domestic vacuum cleaners and Hire Carpet Cleaning machines often have very poor quality small motors that are unable to completely suck up dry particle matter like dirt, sand, hair etc.
Hire Carpet Cleaning Machines usually leave lots of chemical and water cleaning residues behind in the carpet. They also often use poor quality (cheap) cleaning products (e.g. silicon based cleaning chemicals that actually attract dirt, dust and grime) which just won't even clean properly! Consequently, your Carpets and Rugs might have large brown or grey coloured patches in the carpet after being cleaned. This is caused from too much water mixing with dirt and sand that has been left behind and hasn't been removed as part of the cleaning process (commonly known as wicking).
When the water evaporates it picks up dirt, grit, sand etc and forces it to the top of the carpet surface as it evaporates for everyone to see, especially your Landlord, Property Manager or Real Estate Agent! This is especially common with slow drying times (i.e. 8 or more hours). Cheap cleaning chemicals, poor quality machinery and untrained Carpet Cleaners often lead to rapid re-soiling of your Carpets. So they'll look much dirtier than before they were cleaned! If this has happened to you, or your Carpets or Rugs have got brown or grey patches or you want to make sure you get your End of Lease (Bond) money back, then Call us on: 0430 774 493 or send us an Email and our Carpet Cleaning Technician will come and fix it for you.
Question 4 – Why are some Carpet Cleaners advertised prices so cheap and then after they've cleaned the Carpets, the price goes up way above the advertised price and industry standard?
Answer 4 – This is a really old trick called "Bait and Switch" advertising, which often focuses on charging extra for every single spot and stain on the Carpet. The goal is to attract customers with a bargain basement low price to get your business. Then after they've shown up for the job, they try to charge you for all sorts of added extras that get heaped on top of your original cheap quoted price. The end result is that you pay a lot more than you would have for a reputable Carpet Cleaner. Dry Clean Carpets does not rip customers off or engage in dishonest industry practices! Our focus is on gaining long term Customer Loyalty through high quality customer service, so we stand by our 100% Service Guarantee.
Question 5 – Why are some Carpet Cleaners so much cheaper than others?
Answer 5 – The answer is simple: the time it takes to do the job properly. Cheap Carpet Cleaners are often really really fast, they cut corners on quality and often don't use any cleaning chemicals to save time. For example: the most important process in Carpet Cleaning is vacuuming and they wont dry vacuum your carpets at all. Most cheap Carpet Cleaners will pretend to use cleaning chemicals, but will only use cold water to save themselves money! So the Carpet's aren't being cleaned they're being wet with cold water, as the cheap Carpet Cleaners wont use any cleaning chemicals or Hot Water. So your carpets are really getting rinsed with cold water, not cleaned with hot water and chemicals and it'll show how poorly the carpets were supposedly cleaned soon enough with brown and gray wicking spots appearing as the Carpets dries and pulls up all of the hidden dirt that's not been removed from deep within the Carpet pile.
Cheap Carpet Cleaners don't clean to the Australian and New Zealand Standards AS/NZS 3733:1995. Usually cheap prices are offered by untrained operators that are uneducated, unprofessional, frequently presenting their Business with poor quality machinery, no work uniform and looking like rough scruffy untrained operators.
Within the Carpet Cleaning Industry they're called "Cowboys" usually they don't have any insurance or stand by a 100% Satisfaction Guarantee on their work! They have a Drive Way Warranty, once they're out of your Drive Way, your Warranty is gone like they are! So if there are any problems with their services or quality of their work, you'll find it extremely difficult to get your problem resolved or End of Lease (Bond) money back!
Just forget about being reimbursed for any water or chemical damage they do to your carpets, rugs or property. Consequently, if your Carpet, Rug, Upholstery or Mattress is destroyed or ruined, especially wool carpet or expensive rug, you'll have to pay to have it repaired or replaced yourself! You really do get what you pay for in the Carpet Cleaning Industry! It can be very expensive getting your carpets re-cleaned after using a cheap and nasty Gold Coast "Cowboy" Carpet Cleaner, they really are cheap and nasty!
Question 6 – Why do Carpets and Rugs get dirty really quickly after an unqualified Carpet Cleaner cleans them?
Answer 6 – Most unqualified Carpet Cleaners do not dry vacuum and skip other very important cleaning processes to save time, so they're really fast doing the job, usually in half the required time. That's how they offer cheaper quoted prices. They also often don't even use any Cleaning Chemicals at all, just cold water or they use poor quality (cheap) Cleaning products. If they use Silicon based Cleaning products, your Carpet will quickly attract and retain dirt, grit and sand instead of repelling it like the good Chemicals do.
They also often have poor quality machinery that is unable to effectively and efficiently clean Carpets, Rugs, Mattresses, Lounges or Upholstery. That's why your Carpets will re-soil quickly and look dirtier than before you had them cleaned. Cheap prices all too often lead to poor quality sub-standard work. If you want your possessions cleaned properly, always use a Carpet Cleaning Company like Dry Clean Carpets that adheres to the Australian and New Zealand Standard AS/NZS 3733:1995.
Question 7 – When I have my Carpets and Rugs Professionally Cleaned; what Spots and Stains can I expect to be removed as part of the Carpet Cleaning processes?
Answer 7 – A Spot is a foreign substance that has stuck, but hasn't yet set into a Stain on your Carpet or Rug Fibres. An advanced Spot that hasn't been treated will turn into a Stain as it dries and sets. Carpets, Rugs, Mattresses, Lounges and Upholstery with blemishes or marks are typically referred to as Stains.
The majority of Spots and Stains (85% to 90%) are removed or drastically lightened during the Dry Cleaning or Steam Cleaning processes. Consequently, that's why its not possible to promise that every Stain can be removed once its set. That's why its so important to immediately treat a spot to stop it becoming a Permanent Stain, as some untreated Spots dry and turn into Permanent Stains. Free of Charge, we teach Dry Clean Carpets Customers how to stop Spots becoming Stains! Additionally, we also offer Specialised Stain Removal Treatments for permanent stains, just ask the Dry Clean Carpets Technician to give you a Free Quote.
Question 8 – How do I get rid of the bad Urine or excrement smell in my Carpets, Mats, Rugs, Sofa Lounge or Mattress?
Answer 8 – We are the Gold Coast to Tweed Pet Stain Cleaning Specialists. Unlike our competitors, we offer a 100% Satisfaction Guarantee on our Pet Stain Cleaning!
Most off the shelf products sold in your local Supermarket or Pet Stores are unable to permanently mask or completely hide bad smells like Urine; these spray on products are merely temporary masking agents, that hide bad smells in your Carpets, Mats, Rugs, Sofa Lounges or Mattresses for a short period of time.
Dry Clean Carpets Professionally Trained Technicians use powerful neutralizing chemicals, oxidising agents or enzyme deodorants that devour or destroy the bacteria in protein causing sewage odours. Consequently, if the bad Urine ammonia smells aren't Professionally Cleaned and treated with specialised commercial grade quality Cleaning products with Hot Water Extraction equipment to dissolve, suspend and flush out contaminants like odour causing residues, the bad Urine ammonia sewage smell remains and lingers, especially on hot humid warm days or rainy wet days (e.g. a strong ammonia smell on days where the air is very humid and remoistens the Urine and Excrement affected areas).
Question 9 – Can Mould grow on or in my Carpet or Rug?
Answer 9 – Yes it can grow in your Carpet or Rug if the right conditions exist. For example:
Dry Soil matter (uncleaned dirty Carpets, Rugs, Mats, Lounges, Upholstery or Mattresses)
A ready supply of water for the mould to grow, this includes backing materials (e.g. Carpet underlay).
A moderate temperature (e.g. between 20-30 Degrees Celsius).
Poor ventilation (e.g. no or limited air movement).
Several days for the Mould to grow in the above conditions.
Please Note: To inhibit mould growth, turn the fans on in the home, if it's not raining, you can open windows to increase airflow. Air movement dries the air and impedes mould growth.
Question 10 – How do I know what to look for in a quality Carpet Cleaner?
Answer 10 – Firstly, they should be Trained and Qualified to clean to Australian and New Zealand Standard AS/NZS 3733:1995. Hence, they should vacuum north to south and then east to west to remove all of the dry particle matter (i.e. 74%-79% of all dust, dirt, grit and sand) in your Carpets or Rugs.
They should use a biodegradable high quality Pre-spray to aid soil, spot and stain removal. They should use Dry Cleaning or Steam Cleaning as both processes are proven Carpet and Rug Cleaning systems. If they don't offer both Cleaning systems, buyer beware! As they will push whichever service as the best as they don't offer both Carpet Cleaning systems.
They should leave your Carpets residue free, looking and feeling clean. They should rake your Carpets to aid drying and set the Carpet Pile direction for aesthetic beauty. If they don't deliver these services, then they're not Cleaning your Carpets properly (i.e. AS/NZS 3733:1995).
Question 11 – Will Dry Clean Carpets move my furniture for me when they Clean?
Answer 11 – Yes and sometimes no. Dry Clean Carpets are Professionally Institute of Inspection Cleaning and Restoration Certification (IICRC) Trained and Accredited Carpet Cleaners. We are not Trained or Accredited Removalists. However, at the Customers own risk, on a case by case basis, we can relocate light or small items that can be easily moved by one Carpet Cleaning Technician.
To improve Cleaning efficiency and Customer satisfaction, we encourage Customers to pre-emptively move furniture, bed linen, pillows, clothes, shoes, toys, bats, balls etc out of the way of cleaning areas prior to our arrival.
Question 12 – What is the normal drying time for Professionally Cleaned Carpets?
Answer 12 – A Dry Cleaned Carpet will normally be able to be walked on immediately, it should be dry within 30 minutes or sometimes up to an hour. A Steam Cleaned Carpet will normally dry within 8 hours, the average is 4 hours. Dry Clean Carpets offers Customers free Shoe Booty protectors. So our Professionally Cleaned Carpets can be walked on immediately if needed.
Question 13 – Can I walk on the Carpets straight away after being Professionally Cleaned?
Answer 13 – Yes. Professionally Trained Carpet Cleaners like Dry Clean Carpets will only clean the Carpet fibres. The Carpet underlay, backing materials, floorboards or concrete slab should never get wet.
If you use a cheap Carpet Cleaner who leaves excess water in the Carpets (e.g. still wet after 12-24 hours or really soggy when walked on) request that the Carpet Cleaner returns to attend to your Carpets to immediately suck up any excess water in your Carpets and underlay.
Please Note: irreversible Carpet damage can occur if you have wet Carpet for more than 24 hours (e.g. mould growth commences).
Question 14 – Is there a booking cancellation fee if Customers don't give sufficient notice?
Answer 14 – Only if you don't give at least 24 hours notice. However, rescheduling your Booking time for a more suitable time and date is very much encouraged. Dry Clean Carpets prefers Customers reschedule their bookings, so that our $88 cancellation fee is the exception rather than the norm.
Question 15 – Does Dry Clean Carpets Guarantee their Workmanship and Customer Service?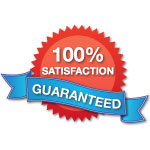 Answer 15 – Yes. Absolutely! Dry Clean Carpets adheres to the Australian and New Zealand Standards AS/NZS 3733:1995 and Upholstery AS/NZ 4849.1: 2003 and the Institute of Inspection Cleaning and Restoration Certification (IICRC) S100, S300 and S500 Standards.
Dry Clean Carpets Gold Coast Carpet Cleaning Customers receive a 14 day 100% Satisfaction Guarantee on all of our Certified Carpet Cleaning Technician's work. If customers aren't totally satisfied, then give us a call on 0430 774 493 or send us an Email and we'll return free of charge.
Dry Clean Carpets specializes in periodic property inspections and end of term rental leases (e.g. Bond Cleaning, Carpet Cleaning and Pest Control).