Mattress Cleaning and Allergy Sanitization
The most successful and popular Mattress Cleaning process (AKA: Bed Cleaning), which includes heavily soiled Mattresses is: Steam Mattress Cleaning (known within the Carpet Cleaning Industry as Hot Water Extraction).
Mattress Cleaning and Allergy Sanitization Processes
Here's how our fully Trained and Accredited Gold Coast Technicians will Professionally Steam Clean and Sanitize your Mattress to Australian Standard AS/NZ 4849.1:2003 and International Standard IIRC S300:
Step 1 – Pre-inspect Mattress fabric: material age, condition, soiling and colour fastness. Discuss potential cleaning results with Customer, before gaining Mattress Cleaning approval.
Step 2 – Thoroughly dry vacuum the Mattress north to south and east to west to remove dirt, sand, grit, hair, dead skin particles, Dust Mites and their faeces (excrement).
Our industrial powered Beta head power brush vacuum cleaners remove the dry soil matter and any Allergens that resides in the Mattress bedding material. The remaining soil matter usually consists primarily of oils (mostly body oils from perspiration from the skin) which the Pre-spray removes.
Step 3 – Pre-spray the Mattress to kill Dust Mites and pre-treat Stains by agitating with Upholstery Bonnet Glove or brush and allow extra dwell time to enable biodegradable soil retardant Mattress Cleaning agents to loosen or remove Spots and Stains.
Step 4 – The Steam Cleaning machine vacuums up any remaining dirt, sand, grit, hair, dead skin particles, Dust Mites and their faeces (excrement), as well as removing Pre-spray, dust, fluff, body oils and dirty water.
Step 5 – The Mattress bedding material is injected with a Hot Water Jet Spray that penetrates the surface material while simultaneously vacuuming up any Pre-spray residue, dust, grit, body oils and dirty water. This Mattress Steam Cleaning process rinses clean and neutralizes the Mattress bedding material's pH level, so the Mattress is Sanitized clean and safe to sleep on.
Please Note: the final Steam Cleaning process is especially important to Allergy sufferers and Asthmatic's, including people with respiratory problems.
Step 6 – Optional*: Leave your newly Cleaned Mattress smelling fresh with a fragrant Lemon Twist or Vanilla Coco Deodorizer smell for only $5 per Mattress.
Step 7 – Optional* Long Life Fabric Protector-Stain Repellent: use our durable long lasting Fabric Protector-Stain Repellent to extend your Mattress Cleaning schedule by decreasing re-soiling (especially useful for sweaty Husbands!) and increasing your Mattress Cleaning efficiency for only $40 per Mattress.
Step 8 – The Mattress is aired naturally or dried with a ceiling fan, oscillating fan or air conditioner so it can be used the same day!
Mattress Cleaning 100% Satisfaction Guarantee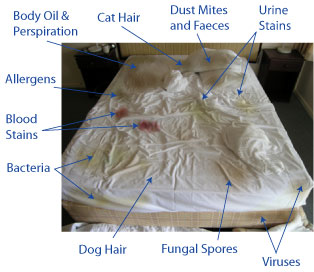 Our Mattress Cleaning customers receive a 14 day 100% Satisfaction Guarantee on all of our Certified Technician's Mattress Cleaning and Sanitization work. If customers aren't totally satisfied with the Mattress Cleaning of their Bed, then give us a Call on 0430 774 493 or send us an Email and we'll return free of charge to to Clean your Mattress again!
Please Note: Some Mattress Manufacturers sometimes use cheap poor/low quality material that can be permanently stained through normal usage while sleeping. For example, swet marks can be extremely difficult to remove. These easily permanently stainable Mattresses are usually priced cheaper and have a much lower stain resistance capacity than mid range and expensive mattresses.
Your Dry Clean Carpets Technician is committed to cleaning excellence and will do their utmost to remove any existing stains so that you remain a long term repeat Customer. Additionally, we strongly encourage our Customers to purchase a water proof mattress protector, to maintain the mattresses optimum appearance after our professional cleaning to Australian Standard 4849.1:2003.
Dry Clean Carpets specializes in periodic property inspections and end of term rental leases (e.g. Bond Cleaning, Carpet Cleaning and Pest Control).